Experience the Dazzling life you deserve!: Empyreal Experiences
10th, September 2020
Steve Jobs once said: "Creativity is just connecting things. When you ask creative people how they did something, they feel a little guilty because they didn't really do it, they were able to connect experiences they've had and synthesize new things" Brainstorming among like-minded people can prove to be one of best ways to orchestrate new ideas and expand visions of many others. Everybody deserves the best for their family and business. Empyreal believes in bringing the cream of the community together under one roof and furnish their lives with exciting and innovative shindigs. We aspire to build an exclusive culture among the elite members of our community. We provide the most sumptuous lifestyle choices with tenacity to outstanding hospitality. The world is your Oyster! Over the last quarter we have organised some prodigious events in collaboration with various pioneer artists. Experience Rendezvous of dazzling experiences with the finest members of the community. Here is a glimpse into the #EmpyrealExperience.
1. Bubbles and Bow Tie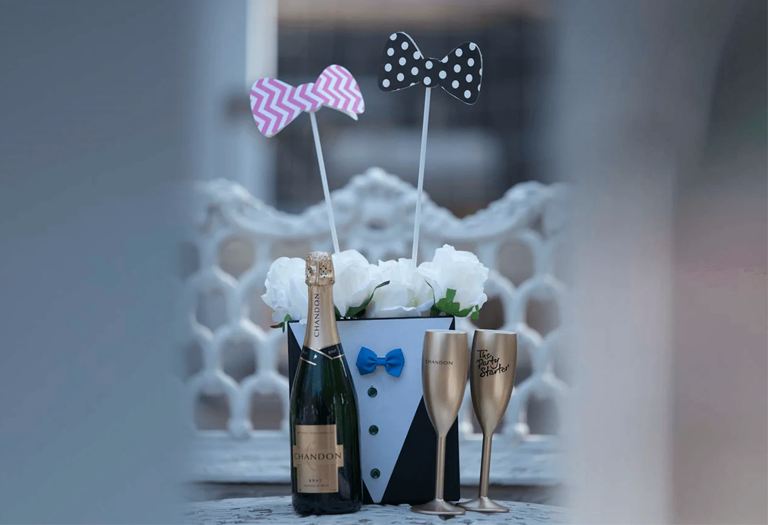 Bubbles and Bow tie was a Sunday Champagne Brunch held on December 15, 2019, at Shikaar Bagh, Narain Niwas, Jaipur. It was a mid-December afternoon when people started pouring in, an exclusively All-White event. A wintery afternoon turned a chic corner with our Bubbles & Bow Tie event. A coming together of finesse and elegance, this was a brunch complete with sparkling wines and neat bow ties.The venue, Shikaar Bagh, was resplendent in hues of white – Pearly, ivory, snowy white, and birch – also chosen as the dress code. Perfect amalgamation of Luxury and Elegance with Champagne and live music, it was an optimum experience for all, a Brunch to remember indeed. We aspire to create a new standard for social gatherings in Jaipur. To know more about the event
CLICK HERE
2. Shaam-E- Awadh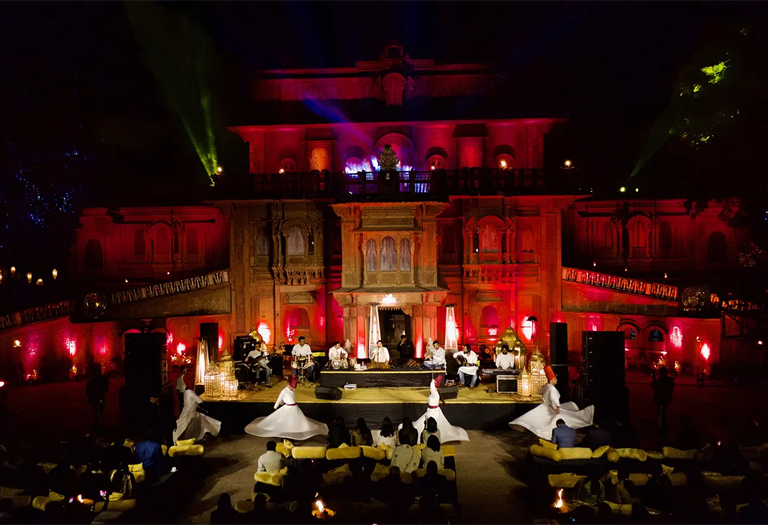 Shaam -E- Awadh was a passionate affair with enticing Sufi music under the stars with Kavita Seth. It was organised on January 25th, 2020 at the Majestic Modi Mahal, Kukas Jaipur in association with our liquor partner- Diageo. The Club hosted Professional mixologists for the event. The signature cocktails were an absolute hit ! Kavita Seth left her audience spellbound with her mesmerising voice. Amidst her audience was the who's who of Jaipur: who are now esteemed members of Empyreal Club. The award-winning Sufi vocalist rendered several of her well-known tracks like Ik Taara from Wake Up Sid and Jeete Hai Chal from Neerja.
The evening took the audience on a melodious journey with whirling dervishes and the Oudh Lounge to explore the perfect blend of Moroccon Heritage with Awadh Royalty. With beautiful lighting, enchanting music the night was filled with frolicing artform of Sufi music and dance. The event set the bar very high for any that has happened in the past. The night gave a glimpse of the upcoming Gazal Bar, a one-of-a-kind much awaited space at Empyreal club. The club is going to offer a very versatile concept of bars which is still an unexplored territory for Jaipur and will be one of a kind. To know more about the event
CLICK HERE
3. 80's Themed Prom Night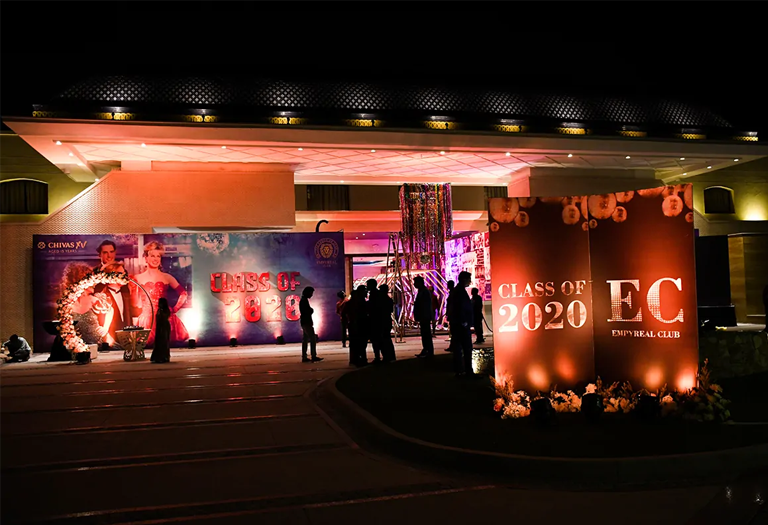 The event was organised on Leap day 2020 at Amara in Jagatpura, Jaipur in association with liquor partners Chivas Regal. The evening was filled with groovy beats from the 80s, the theme was the 1980s, with a twist of retro and polkadots. An elegant affair, live music with top notch community involvement. Live music entertainment was provided by Saar Band. The vibe was electric, the dance floor was filled with enthusiasm and fervour. Everyone danced till their feet gave up. It was a very enigmatic night showcase of some real classy prom pomp. Splendor was at every corner, with a live band, classy costumes and delectable food and beverages. With striking appeal for Empyreal Members, it was something unseen in Jaipur so far. To know more about the event
CLICK HERE
4. Family Treasure Hunt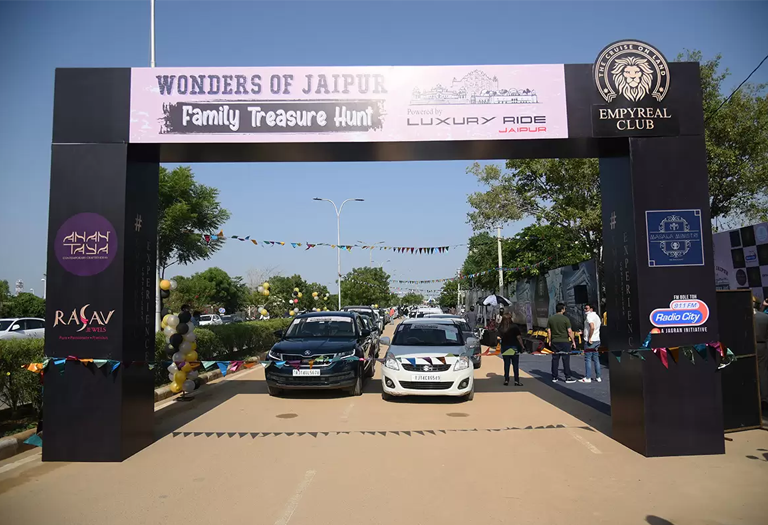 A contactless #EmpyrealExperience filled with fun surprises and goodies, was held on Friendship day, from 8AM – 12 NOON Flag Off from Empyreal Club, Jaipur. It was a one-of-a-kind shindig. About 100 teams participated in this treasure hunt, which was conducted by cars driving on the streets of the city. To maintain the norms of social distancing, every car had a maximum of four participants, and each car contested as a single team. There were many categories to win, like the Best Slogan, Best Car Décor, etc. all were given the printed clues and route map. The teams had to proceed, figuring out each clue.
The Family Treasure Hunt was really exciting as there were Disney characters & Balloon Decoration was done to engage the kids & adults at the Empyreal Club Site from where the Hunt started & ended. All the participants were given Gift Hampers. 15 checkpoints were assigned across the city, on the iconic locations. The team which could cover all the checkpoints in the least time was declared the winning team. To know more about the event
CLICK HERE
5. Upcoming Event: A Drive-in Concert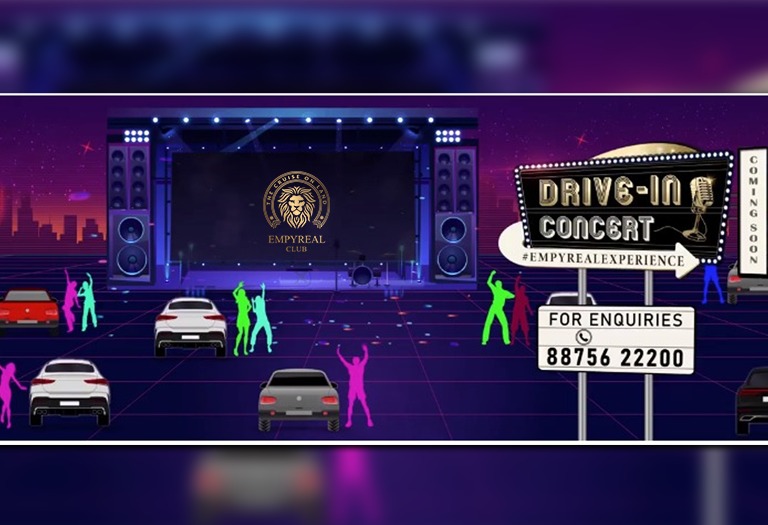 Have you had enough of lockdowns, Has pandemic slowed down your social life? You need not worry because we have just the perfect evening planned for you! Empyreal Club brings to you a very special and rare event in the first week of October, 2020, a Drive-in Concert for the first time in India. Live Concert Performance from a renowned voice like Ustad Nusrat Fateh Ali Khan, you will go on a journey to the stars with Sufi music right from the comfort of your car! Get your sunroofs down and recline your seats, because the fun is yet to begin. Stay tuned for more information! Coming to your nearest Ultra-luxury Destination in Jaipur! Coming soon!
The world around us is fragile, it's always better to make sure your family has got what it takes to have a wealthy future full of memories of spectacular activities with fun and frolic! We at Empyreal are focused at providing our prodigious clients best facilities like Rooftop Restaurants, fully equipped Sports Complex, Water park, Skywalk Jogging Track and many more to change the face of luxury living. The world is your Oyster with #EmpyrealExperience.